If you've ever spun the reels of a slot machine, you've encountered those mysterious lines that determine your wins. Now, winlines won't be a mystery.
In this guide, we'll explain what winlines are and how they decide your wins, so you can enjoy your games to the fullest. Keep reading to discover how the different types of winlines work!
What are Winlines in Slots?
Winlines in slots, also known as paylines, are specific paths or patterns that run across the reels of a slot machine. These lines determine which combinations of symbols result in a win when they align on the reels after a spin.
Each slot game can have a different number and arrangement of winlines, ranging from a single line to several hundred or even hundreds of thousands in some modern slots.
How Do Slot Winlines Work?
To win, players must land matching symbols on these winlines, typically starting from the leftmost reel and continuing consecutively to the right, although some slots also feature different configurations which we discuss below.
The specific combinations that result in wins, as well as the associated prizes, are typically detailed in the game's wintable, which players can access for reference. Winlines are a fundamental element of slot gameplay and play a crucial role in determining the outcome of each spin.
Below is how the different types of winlines work in slot machines.
Fixed Winlines
In slots with fixed winlines, players must land matching symbols or combinations on predefined lines to win a prize. These lines are static, meaning their positions on the reels remain the same throughout the game.
The number and layout of fixed winlines can vary from one slot to another, with some games featuring just a single winline and others offering multiple winlines.
For example, in a classic slot machine with three reels and a single fixed payline, players would need to align matching symbols along that one line to achieve a win.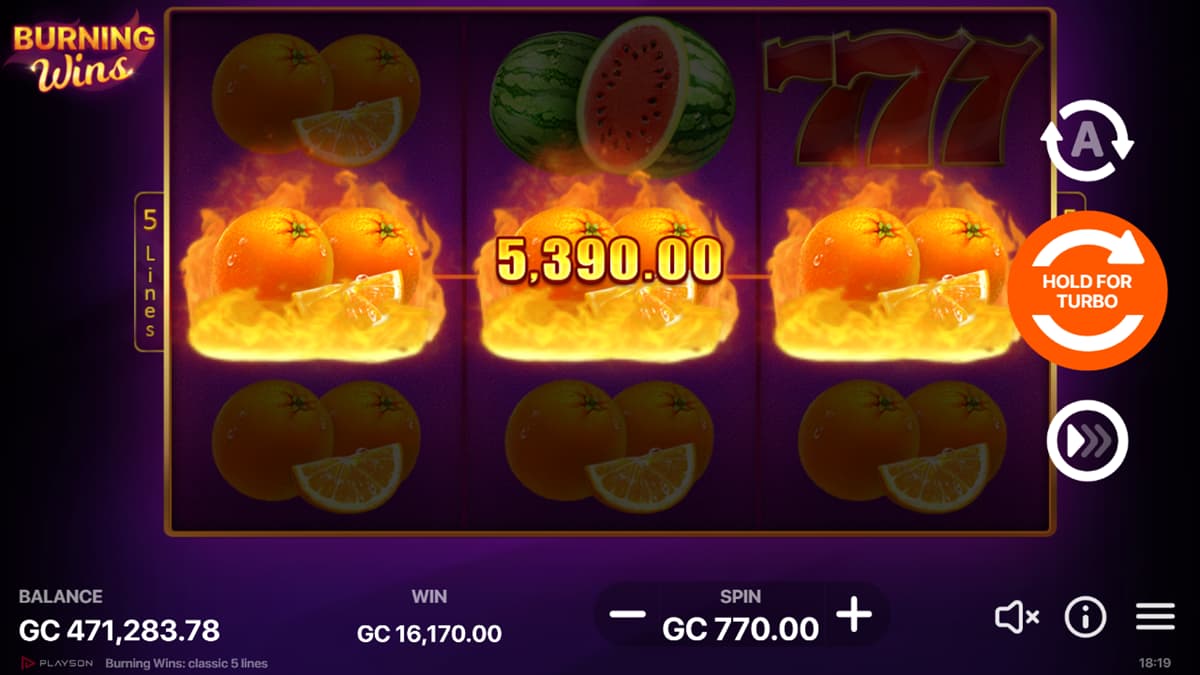 Adjustable Winlines
The number of active winlines can often be adjusted by the player in some slot games, allowing for customization of the playing strategy.
In these games, players can typically use the game's interface to select the number of winlines they wish to activate. This choice can often be made before each spin, allowing you to tailor your spin and strategies to your preferences.
Win Anywhere or All-Ways Win
All ways slots also known as win anywhere or, do away with traditional winlines. Instead, they allow wins to occur when matching symbols appear on adjacent reels, starting from a specific side (usually the leftmost reel) and moving either to the right.
Ways to win slots offer a more flexible and dynamic approach to winning. Players do not need to align symbols along fixed lines; they can win as long as matching symbols are adjacent to each other on consecutive reels. The specific number of ways to win can vary from one slot to another, such as 243 ways to win, 720 or 1024 ways to win.
Win Both Ways
In win both ways slots, players can form winning combinations from left to right (the standard direction) and from right to left (the reverse direction). This doubles the opportunities for creating winning combinations.
Win both ways slots provide an extra layer of excitement by enhancing the chances of winning on every spin. They are often found in modern video slots and offer a balanced mix of action and rewards.
Megaways
Megaways slots are known for their dynamic reel setups, where the number of symbols on each reel can change with every spin. This results in a variable number of ways to win, often ranging from thousands to hundreds of thousands.
Megaways slots offer an unpredictable and highly volatile gaming experience. The changing reel configurations and cascading symbols create a sense of excitement and the potential for significant wins.
Cluster Wins
Cluster win slots do away with traditional winlines and focus on forming clusters of matching symbols. A cluster typically consists of a group of adjacent symbols (often a minimum of 5) touching each other horizontally or vertically.
These slots emphasize groupings of symbols, allowing for multiple clusters to form on a single spin. Cluster pays games are often associated with features like cascading reels, where winning clusters disappear to make way for new symbols, potentially leading to chain reactions of wins.
Wrapping Up
Whether you prefer fixed winlines, ways to win, or any other winline type, remember that each spin is a chance for excitement and rewards. The different forms of winlines are designed to give you new experiences, so you can choose any one that matches your taste.
Go ahead and explore slot gaming with confidence at McLuck!
Related Slots Guides:
FAQs
Are more winlines better in slots?

Firstly, there is no right or wrong to playing slots. Generally, playing fewer lines will lead to lower winning chances, but it also means that you will be playing for less coins per spin. Conversely, playing more lines will increase your winning chances, but it will also require you to play for more coins per spin.
How do you read a winline on a slot machine?

The best way to read a winline on a slot is by checking the game information, rules or wintable.
How many lines should I play on slots?

How many lines you play on a slot machine depends on your gaming style and preference. For instance, you can play fewer winlines if you prefer simplicity, or play more winlines to activate a higher number of potential winning combinations on each spin.